Complete Excavating Services for Fairbury, Dwight and Surrounding Areas
Excavation is an essential part of the construction process, and it involves much more than simply moving dirt around. Some of the more common services include grading, site preparation, trenching and other soil-related tasks. While some companies specialize in only one type of excavation, Popejoy Plumbing, Heating, Electric and Geothermal is a full-service excavator, certified Nayadic septic installer who has the knowledge and expertise to address virtually any excavating challenge.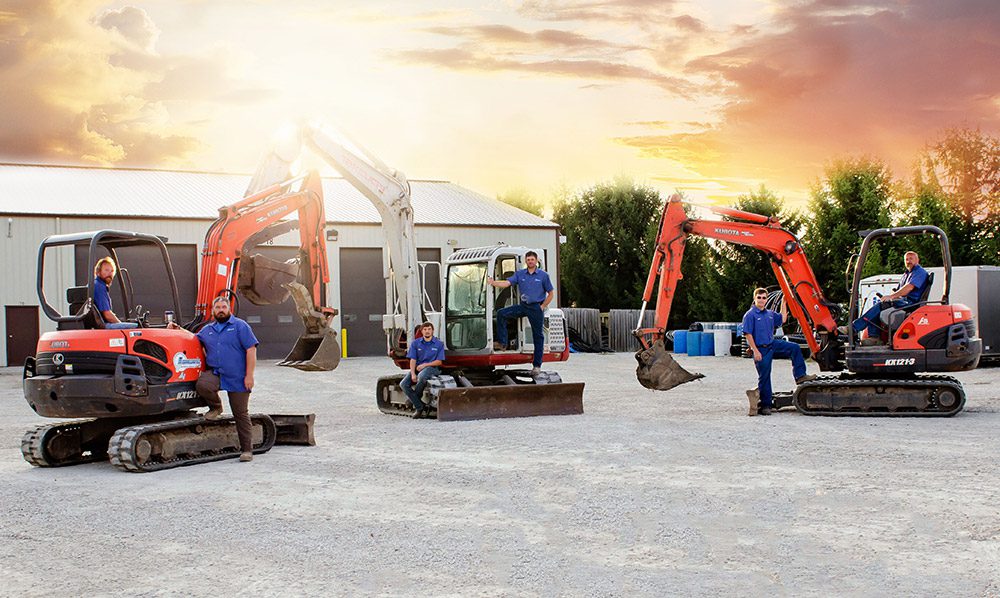 Site Preparation
For residential projects, the excavator generally starts working after the surveyor determines the lot line and building boundaries. The soil is removed to the depth required for the footings, and the firmness of the soil may be measured through a compaction test. Footings and basement excavation requirements are precise, so the excavation contractor should be able to use a transit level to ensure that the dig matches the posted grade from the survey crew. After the foundation contractor pours the footers, the excavator will return and backfill around the foundation.
Water, Sewer and Gas Lines
Excavating for water lines, sewer line or gas lines should only be done by a professional contractor familiar with the practice. Digging around any type of utility lines can be hazardous, and only a skilled excavator understands the precautions required to ensure the dig is safe and complies with all local and state building codes.
In some instances, water and sewer lines can become compromised, so there's no alternative but to dig them up for repair or replacement. In this situation, you'll want to hire an excavating contractor who provides services tailored to your needs. When you partner with Popejoy Plumbing, Heating, Electric and Geothermal, you can rest easy knowing we have the equipment and expertise to do the job right the first time.
In our area, water, sewer and gas lines can be buried anywhere from four to 18 feet deep, depending on the material and application. Depth requirements are largely determined by the piping infrastructure and local codes. Deepwater and sewer lines require the use of large, sophisticated excavation equipment, including mini excavators and backhoes.
Our Excavating Services
At Popejoy Plumbing, Heating, Electric and Geothermal, we've developed proprietary excavating techniques that substantially reduce the damage to your driveway, sidewalks, and lawn. Our unique pneumatic mole machinery bores under areas instead of digging straight through them. This helps limit damage to your property and reduces overall construction costs.
No matter what type of excavation you need, we have the equipment and expertise to complete the job skillfully and on time. Here are some of the most requested excavating services we offer:
Sewer installation and repair
Septic system design, installation and repair
Water services, taps and leak repair
High-pressure line jetting
Pneumatic mole work
Drainage
Gas line installation
Rock and dirt delivery
Footings and crawlspace excavation
Backfill and grading services
Trenching
Fast and Efficient Excavating
If you have a need to move dirt, call the pros at Popejoy Plumbing, Heating, Electric and Geothermal today. We offer a full array of excavating services for new construction, remodeling, plumbing repair and replacement, and more for home and business owners in Pontiac, Morris, Streator, Braidwood, Coal City, Dwight, Fairbury, El Paso, Gibson City, Lexington, Chenoa, Gilman, IL, and the surrounding area.
Certified Nayadic Septic Installer