Standby Generator Services for Fairbury, Dwight, and Surrounding Areas
Standby generators provide an excellent solution for limited and extended power outages. As a Generac "Elite" Dealer, we've been rated in the top percentage of sales and service for the entire state of Illinois. In the event of short or long-term power outages, the peace of mind that you'll have knowing you can supply power to the most important appliances with a back-up generator in your home is significant.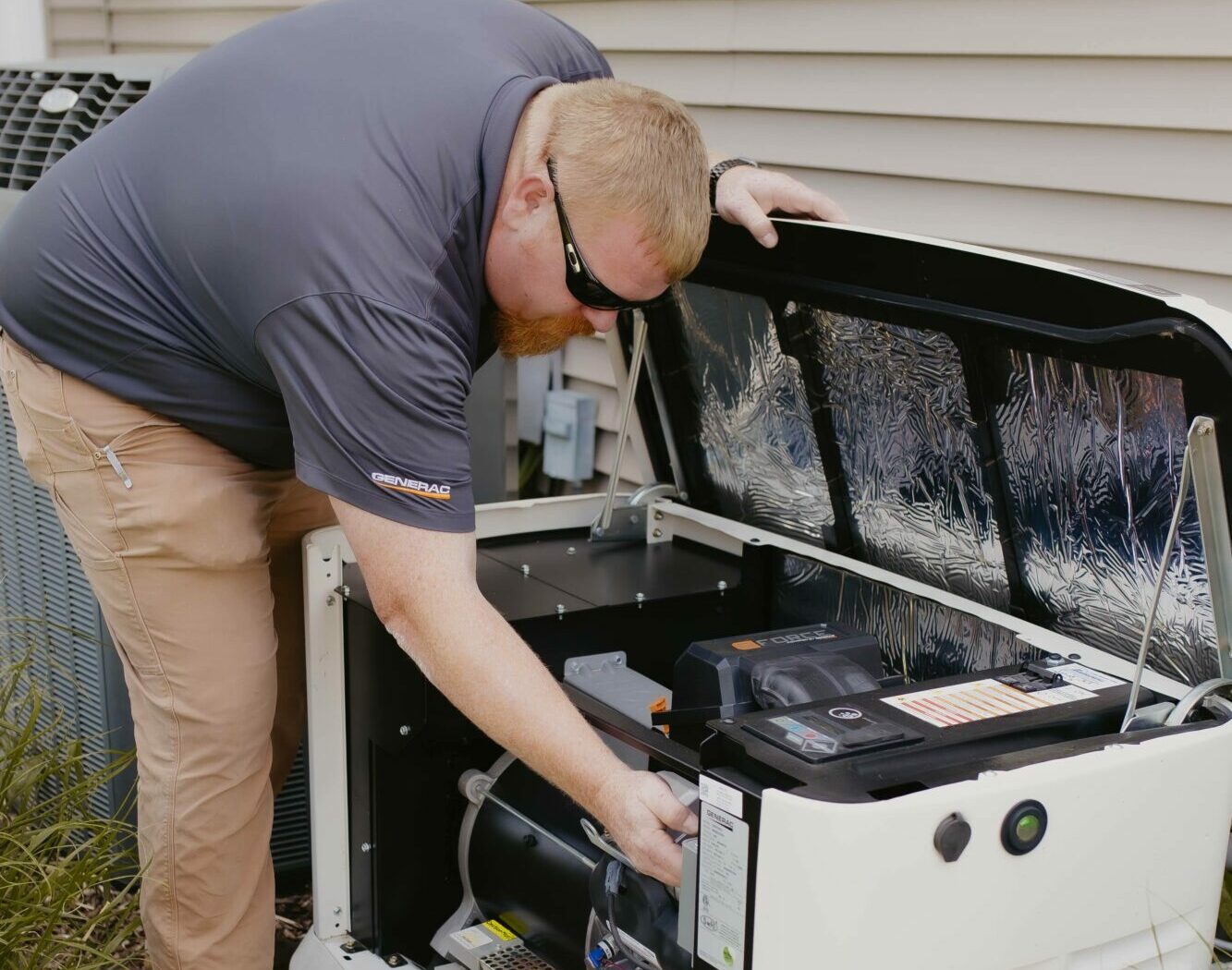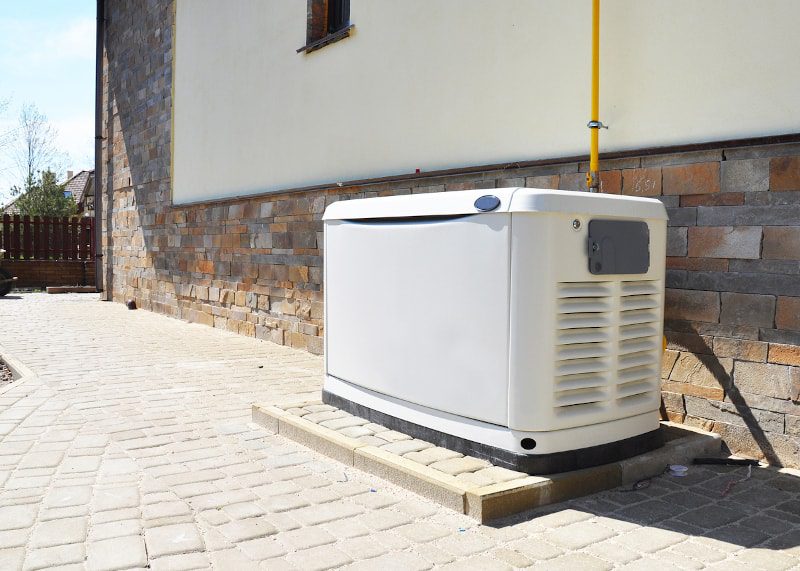 INSTALLING A STANDBY GENERATOR
Residential backup generators are installed outside your home just like your AC unit. In fact, most models are as quiet as an air conditioner, so there's no issue with noise. If your home has existing gas service or propane lines, installation is easy. Our master plumbers will connect the generator to your supply lines, and our electricians will install an automatic transfer switch that alerts the generator when an outage is detected and when your service is restored.
Generac Generators – Never Lose Power
Keep the lights on and the appliances humming with a standby generator made by Generac and installed by Popejoy Plumbing, Heating, Electric and Geothermal. Our licensed electricians install whole-home generators for customers in Fairbury, Dwight, and Pontiac, IL.
Kohler Generators – Never Lose Power
When Mother Nature is at her worst, you can depend on Kohler generators to power your home's most important appliances. Our factory-authorized experts install residential and light commercial backup generators for customers in Fairbury, Dwight, Pontiac, IL, and surrounding areas.
We're proud to be a factory-authorized Kohler dealer. As a customer, this means that you receive quality products, expert service and a comprehensive warranty on installations and replacement parts.
Residential Generac Generators
Power outages can happen at any time. Nationally, the average utility customer experiences 1.3 power interruptions every year and goes without electricity for about eight hours. Whether outages are caused by ice storms, severe weather or equipment malfunctions, you need a standby generator that can respond in an instant.
Thanks to Generac, uninterrupted power is more accessible and affordable than you might think. Whole-home generators are available in a variety of sizes ranging from 6 kW to 60 kW depending on the number of circuits that you're using. In most cases, one compact unit can keep the lights on or power many of your major appliances.
Working With a Generac PowerPro
As a Generac PowerPro Elite dealer, we specialize in equipment sales, service, and installation. To qualify for this program, we have demonstrated best-in-class qualifications. Our backup power experts can answer all of your questions and recommend a whole home generator that offers the best return on investment. Customers can choose from a complete selection of Generac equipment included in our primary product lineup.
America's Bestselling Generator Brand
Founded in 1959, Generac Power Systems is America's bestselling backup generator brand. The company's products are made in Wisconsin and shipped to customers worldwide. Here's why we represent this industry-leading manufacturer.
Generac generators feature rugged commercial-grade engines that are smaller and quieter than competing products.
Residential and commercial systems feature easy-to-use controls and automatic self-test functions.
Intelligent power management tools let you decide which circuits receive power for maximum coverage and efficiency.
The brand offers a wide selection of accessories, including automatic transfer switches and wireless controls.
Most Generac products include a five-year limited warranty, and you can purchase extended coverage.
Optional cold weather kits are available for smooth, reliable starting in harsh conditions.
If you're interested in a particular Generac product or if you have general questions about standby generators, call Popejoy Plumbing, Heating, Electric and Geothermal. Our electricians will be happy to discuss your options.
Kohler Standby Generators for Homes and Businesses
Whole-home generators have long been one of the most desirable upgrades among homeowners. With rising energy demand and an aging grid, power outages are increasingly common, which means that generators are more valuable than ever. Thanks to improved technology, standby generators are surprisingly affordable.
Choose from models with capacities between 8 kW and 48 kW or more depending on your budget and whether you're powering essential circuits or your entire house. Backup generators start automatically and run continuously using your natural gas or propane supply. They look like an air conditioner, and they're just as quiet. If you've been thinking about a generator, now is a great time to invest in your peace of mind.
Factory-Authorized Sales, Service and Installation
We offer sales, service, and installation for whole-home generators up to 150 kW. We'll help you select a product that meets your amperage requirements, and we'll complete the installation from start to finish. Our licensed electricians will install the automatic transfer switch and wire the generator to your main electrical panel while our pipefitters connect the system to your gas supply. We'll also secure any permits that are needed in your area.
Quality Generators With Industry-Leading Features
Kohler manufactures an extensive selection of backup generators ranging from 8 kW models to 150 kW commercial-grade options. Take a look at some of the features that make Kohler a go-to brand among homeowners and contractors.
Kohler generators feature durable commercial-grade engines designed for high-demand applications.
Residential generators run an automatic self-test every week for ever-ready dependability.
Automatic transfer switches deliver power to your appliances seconds after an outage is detected.
With the OnCue remote power management system, you can track your generator's performance no matter where you are.
Exclusive PowerBoost technology provides enough energy to power high-draw appliances the moment the generator starts.
All power systems are protected by a five-year, 2,000-hour limited warranty, and optional service plans are available.
To learn more about our selection of whole-home generators or to request a quote, call Popejoy Plumbing, Heating, Electric and Geothermal.
Routine Generator Maintenance Services
When you sign up for our Peace of Mind Agreement, you'll receive regular maintenance on your in-home generator, including:
Simulate outage and check transfer of load
Check gas pressure
Check frequency reading
Check amp draw of motor
Check voltage reading
Change oil and filter
Replace spark plug(s)
Replace air filter
Load teat the battery
Check charging system
Check cold weather kit (if applicable)
Clean unit and any debris
Level the unit
Provide professional opinion of system condition
Contact us today to learn more about routine generator maintenance.
STANDBY GENERATOR SERVICES
For customers in Pontiac, Morris, Streator, Braidwood, Coal City, Dwight, Fairbury, El Paso, Gibson City, Lexington, Chenoa, Gilman, IL and the surrounding area, Popejoy Plumbing, Heating, Electric and Geothermal is the only contractor you'll need for your standby generator. Contact one of our friendly customer service representatives to learn more.