Electrical Contractor for Fairbury, Dwight, and Surrounding Areas
Electricity is an essential necessity, so it's important to keep the critical electrical systems in your office or home safe and dependable. Electric current can be very dangerous when handled improperly, so repairs or improvements should only be completed by a licensed, professional electrical contractor.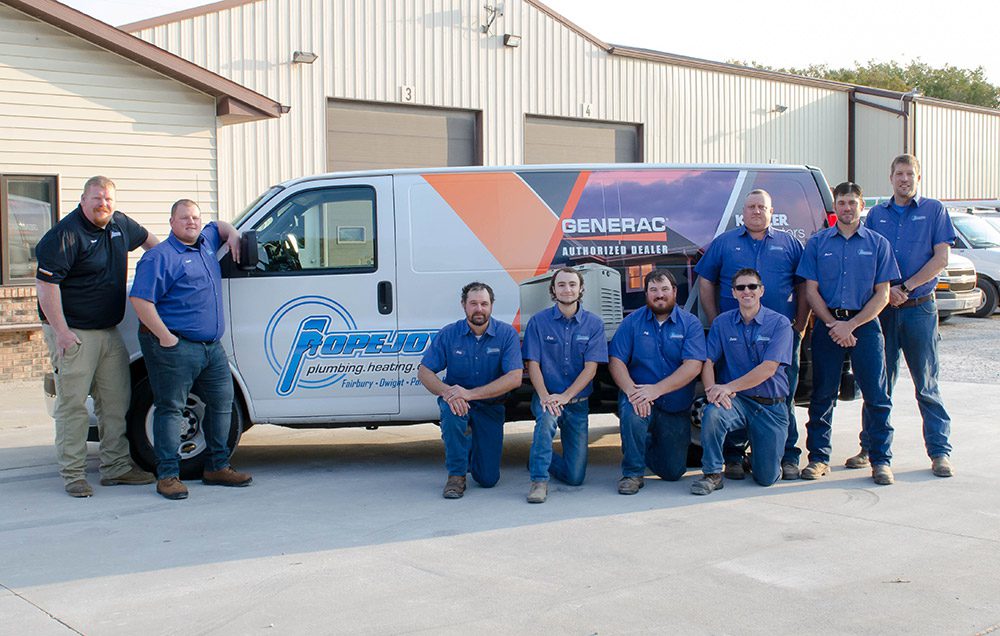 Electric Services
Electric projects can be complicated, so you'll want to hire a contractor who has the experience and skill to provide effective and efficient solutions. At Popejoy Plumbing, Heating, Electric and Geothermal, we offer a full array of electrical services that will improve functionality, beautify your home and maximize energy efficiency.
Electrical Installation
A new electrical installation includes a number of important considerations, including the location of electrical outlets, smoke detectors, lighting fixtures, HVAC service and ceiling fans. The main wiring system must be designed to accommodate the anticipated load and provide additional service for future growth.
Low-voltage wiring for data, voice equipment, computers, security systems, and thermostats requires comprehensive planning by a trained technician. In modern homes, flexibility is paramount, since occupant needs change frequently over time. At Popejoy Plumbing, Heating, Electric and Geothermal, we have experience installing complete electrical systems for both residential and commercial applications. A few of the most common products we install are listed below.
Whole Home Surge Arrestors: Most power surges start inside the home, and these minute fluctuations can damage complex electronic appliances like computers and flat-screen TVs. A surge arrestor will protect your delicate electronic devices from external and internal surges.
Ceiling Fans and Lighting Fixtures: Ceiling fans help lower heating and cooling costs by mixing the air for better comfort. A trained electrician will ensure that fans and lighting fixtures have the proper wiring arrangement and structural support to operate safely and correctly.
Network and Telephone Cabling: We install a variety of audio, data, voice and network cabling systems, including cat-5, cat-6, and fiber optic cabling.
Electrical Repair
If you have an electrical problem, contact the pros at Popejoy Plumbing, Heating, Electric and Geothermal today. We have a team certified electricians capable of repairing the most sophisticated electrical systems:
Electric panels and breakers
Backup power generators
Low and high voltage lighting
Air conditioning disconnects
Ceiling fans
Light fixtures
Switches and receptacles
Power and service upgrades
House rewiring
Landscape lighting
Security lighting
Smoke detectors
Standby Generators
Standby generators provide an excellent solution for limited and extended power outages. As a Generac "Elite" Dealer, we've been rated in the top percentage of sales and service for the entire state of Illinois. In the event of short or long-term power outages, the peace of mind that you'll have knowing you can supply power to the most important appliances with a back-up generator in your home is significant.
Comprehensive Electric Services
For customers in Pontiac, Morris, Streator, Braidwood, Coal City, Dwight, Fairbury, El Paso, Gibson City, Lexington, Chenoa, Gilman, IL and the surrounding area, Popejoy Plumbing, Heating, Electric and Geothermal is the only contractor you'll need for complete electrical services. Contact one of our friendly customer service representatives to learn more about the benefits of an electric system upgrade.