Midwest winter weather can be harsh. Families and businesses rely on their heating systems to provide warm indoor comfort and hot water for bathing. If you need a furnace, heat pump or hot water heater repair, it's important to call a contractor who has extensive experience dealing with the many challenges associated with these heating appliances. The pros at Popejoy Plumbing, Heating, Electric and Geothermal will help guide you through the entire installation, replacement, ventilation or repair process, so your heating equipment operates reliably and economically through many winter seasons.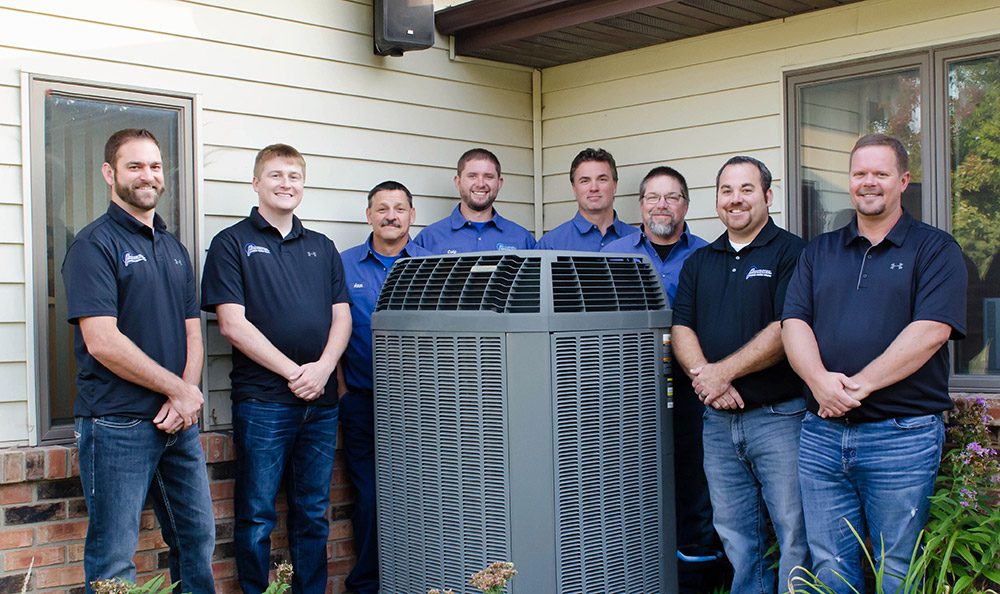 Unfortunately, you'll usually discover your heat pump or furnace isn't working properly when it becomes uncomfortably cold inside your home. A broken heater is aggravating, but the situation can become a major problem if your service company isn't communicating. At Popejoy Plumbing, Heating, Electric and Geothermal, we provide 24/7 service for emergencies. We employ factory-trained and NATE-certified technicians who have experience working on virtually every brand of equipment.
Your furnace, heat pump and water heater play an important role in your family's comfort, health and safety, so it makes sense to keep your critical heating equipment operating at peak performance. We offer a sensible maintenance plan. It's called our Peace of Mind Service Agreement and includes a variety of vital services designed to lower operating costs, extend the life of your equipment and reduce the chance of an unanticipated breakdown.
If you're purchasing a new furnace or heat pump, your contractor should always determine the precise unit capacity required to keep you comfortable in the most extreme winter conditions. This includes accounting for the impact of doors, windows, insulation and other factors on the total heating load. Oversized heaters cycle too quickly, which creates drafts and wastes energy. On the job site, the heating contractor must install the unit to factory specifications to ensure the system maintains an even temperature throughout the different rooms in the house. If additional or replacement ductwork is needed, our sheet metal fabrication shop can provide whatever is needed.
Broken water heaters can be difficult to diagnose and often require the services of a trained technician. Typical problems include a broken high-temperature cutoff switch, a faulty circuit breaker, bad thermostat or defective thermocouple. If the water in a gas water heater is lukewarm, it often means the dip tube is cracked. The experts at Popejoy Plumbing, Heating, Electric and Geothermal usually troubleshoot and repair malfunctioning water heaters in a single visit. If you're looking for a new energy efficient model, we can help you choose the perfect unit to save money while providing all the hot water your family needs.
Complete Heating Solutions
The experts at Popejoy Plumbing, Heating, Electric and Geothermal are dedicated to keeping home and business owners in Pontiac, Morris, Streator, Braidwood, Coal City, Dwight, Fairbury, El Paso, Gibson City, Lexington, Chenoa, Gilman, IL and the surrounding area warm in the winter and ensuring your family and employees have plenty of hot water all year round. We provide complete heat pump and furnace repair, installation and maintenance services for every brand of equipment. If you're considering replacing your old furnace or water heater, call one of our comfort specialists today.