Standby Generator Services for Fairbury, Dwight, and Surrounding Areas
Standby generators provide an excellent solution for limited and extended power outages. As a Generac "Elite" Dealer, we've been rated in the top percentage of sales and service for the entire state of Illinois. In the event of short or long-term power outages, the peace of mind that you'll have knowing you can supply power to the most important appliances with a back-up generator in your home is significant.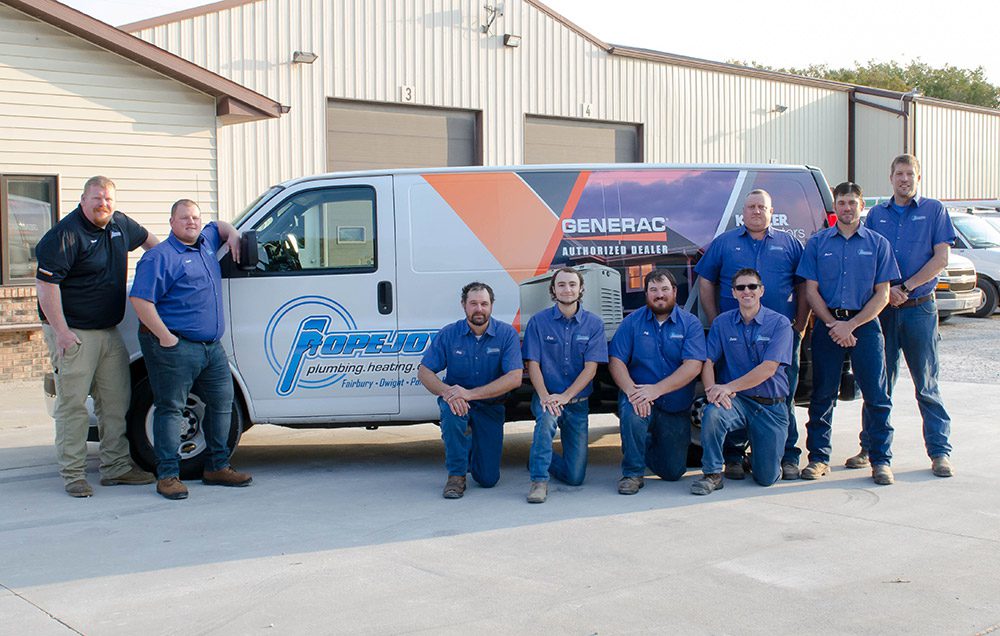 Generac Generators – Never Lose Power
Keep the lights on and the appliances humming with a standby generator made by Generac and installed by Popejoy Plumbing, Heating, Electric and Geothermal. Our licensed electricians install whole-home generators for customers in Fairbury, Dwight, and Pontiac, IL.
Residential Generac Generators
Power outages can happen at any time. Nationally, the average utility customer experiences 1.3 power interruptions every year and goes without electricity for about eight hours. Whether outages are caused by ice storms, severe weather or equipment malfunctions, you need a standby generator that can respond in an instant.
Thanks to Generac, uninterrupted power is more accessible and affordable than you might think. Whole-home generators are available in a variety of sizes ranging from 6 kW to 60 kW depending on the number of circuits that you're using. In most cases, one compact unit can keep the lights on or power many of your major appliances.
Working With a Generac PowerPro
As a Generac PowerPro Elite dealer, we specialize in equipment sales, service, and installation. To qualify for this program, we have demonstrated best-in-class qualifications. Our backup power experts can answer all of your questions and recommend a whole home generator that offers the best return on investment. Customers can choose from a complete selection of Generac equipment included in our primary product lineup.
America's Bestselling Generator Brand
Founded in 1959, Generac Power Systems is America's bestselling backup generator brand. The company's products are made in Wisconsin and shipped to customers worldwide. Here's why we represent this industry-leading manufacturer.
Generac generators feature rugged commercial-grade engines that are smaller and quieter than competing products.
Residential and commercial systems feature easy-to-use controls and automatic self-test functions.
Intelligent power management tools let you decide which circuits receive power for maximum coverage and efficiency.
The brand offers a wide selection of accessories, including automatic transfer switches and wireless controls.
Most Generac products include a five-year limited warranty, and you can purchase extended coverage.
Optional cold weather kits are available for smooth, reliable starting in harsh conditions.
If you're interested in a particular Generac product or if you have general questions about standby generators, call Popejoy Plumbing, Heating, Electric and Geothermal. Our electricians will be happy to discuss your options.
STANDBY GENERATOR SERVICES
For customers in Pontiac, Morris, Streator, Braidwood, Coal City, Dwight, Fairbury, El Paso, Gibson City, Lexington, Chenoa, Gilman, IL and the surrounding area, Popejoy Plumbing, Heating, Electric and Geothermal is the only contractor you'll need for your standby generator. Contact one of our friendly customer service representatives to learn more.