AC Repair and Installation Services for Fairbury, Dwight, and Surrounding Areas
Midwest summers are hot and humid, and air conditioning in your home is a welcome relief. An AC system that's designed and installed the right way will keep your home comfortable and dehumidified all through the summer months. If you're experiencing uneven comfort in different rooms in your home, call the professionals at Popejoy Plumbing, Heating, Electric and Geothermal for a free system analysis.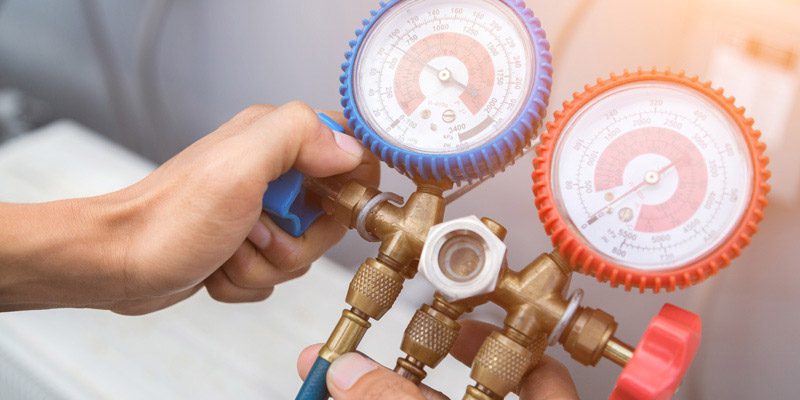 Why Proper Sizing Matters
Many older heat pumps and air conditioners are oversized and inefficient. Modern design techniques help match the size of your equipment to the energy consumption footprint of your home. This includes the impact of windows, doors, insulation, ductwork and perimeter tightness on the total cooling load. Properly sized air conditioners help improve overall comfort and enhance efficiency.
Total AC Services
Our trained technicians provide a variety of services that cover the entire lifespan of your AC system. We're here to help from sizing a new installation to the sheetmetal fabrication of ductwork through the maintenance and service of your system to maximize it productivity for many years of use.
Air Conditioning Repair
Air conditioners and heat pumps usually break down during the hottest part of the summer, so it's critical to hire an HVAC contractor who maintains a fully-staffed service department. At Popejoy Plumbing, Heating, Electric and Geothermal, our trained technicians repair virtually every brand of equipment. We always respond to service inquires quickly, and 24/7 emergency service is available for serious situations. If you're concerned about your indoor air quality, be sure to ask us about improving the ventilation in your home or business.
Air Conditioner Maintenance
Air conditioners have a lot of moving parts and complex electronics. You've made a significant investment in home comfort, so it makes sense to make sure your air conditioner is maintained properly. Our Peace of Mind service maintenance agreement is the best investment you can make to reduce utility costs and extend the life of your equipment. Twice a year, we dispatch trained technicians to your office or home to perform a variety of important services designed to correct small problems before they can cause an unexpected breakdown.
Air Conditioning Installation
Trane air conditioners and heat pumps are built to demanding standards, but your contractor will also have a significant impact on your comfort and operating costs. An HVAC contractor must understand the science behind AC design and sizing. On the jobsite, our trained technicians ensure that the ductwork is properly sized, the connections are strapped and sealed and the HVAC replacement equipment is properly installed. Once the equipment is set and tested, we air balance the system to optimize comfort.
You've Found the Best Air Conditioning Contractor
If you live in Pontiac, Morris, Streator, Braidwood, Coal City, Dwight, Fairbury, El Paso, Gibson City, Lexington, Chenoa, Gilman, IL and the surrounding area, call the professionals at Popejoy Plumbing, Heating, Electric and Geothermal the next time you need air conditioning installation, repair or maintenance services. We'll keep your air conditioner running at peak efficiency, so your family and employees stay cool and comfortable all summer long.