Schedule Your Free Water Test!
Call Today for Financing options
Fairbury Contractor for Plumbing, Heating and Cooling, & Electrical Services
Your Pontiac, Morris, Streator, Braidwood, Coal City, Dwight, Fairbury, El Paso, Gibson City, Lexington, Chenoa and Gilman, IL home has an integrated network of essential systems that help keep your family healthy, safe and comfortable. At Popejoy Plumbing, Heating, Electric and Geothermal, we offer a full array of services that ensure your critical plumbing, HVAC, and electric systems will continue to operate at peak performance for many years to come.
Large Inventory of Equipment and Parts
Preventive Maintenance Agreements
NATE-Certified Technicians
Maintain A Clean Work Space
Call Today To Schedule An Appointment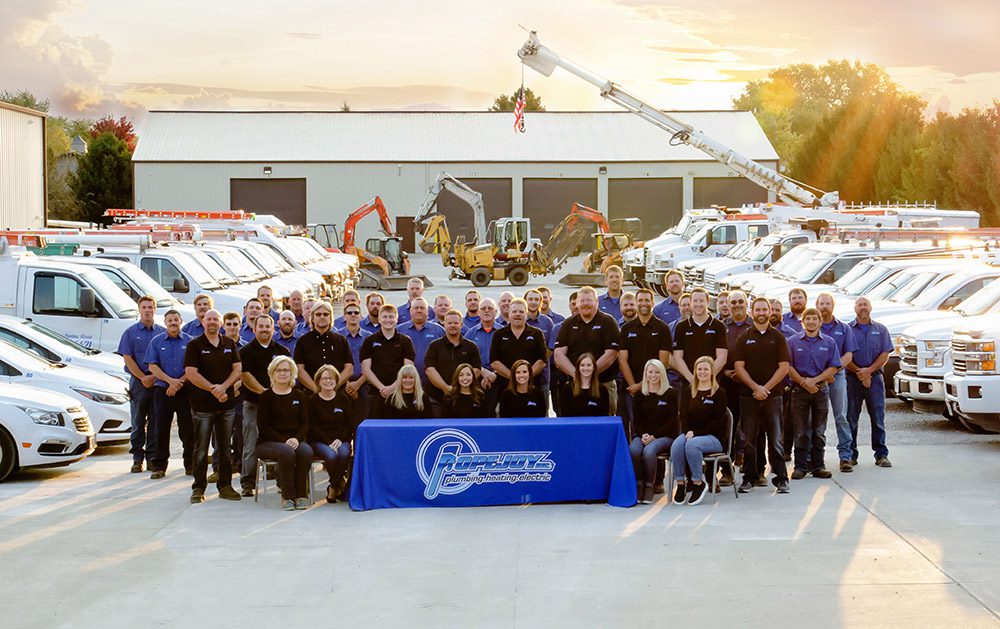 Heating and Cooling Service
Air conditioners, furnaces, and heat pumps are built to last, but the contractor who installs your heating and cooling equipment will have the biggest impact on comfort and utility costs. We design every system using the latest technology to ensure your equipment provides the precise amount of conditioned air needed to keep your family comfortable in all weather conditions. If your air conditioner or furnace ever breaks down, we maintain a large service department that responds to furnace repair, ac replacement and ac installation, inquiries quickly and effectively. Our trained technicians can fix any brand of equipment, and we offer 24/7 emergency service for critical situations.
Professional plumbing services are vital for new construction projects and existing systems. We specialize in fixing piping leaks, clearing clogs and replacing faulty fixtures. When you call, we'll dispatch a trained plumber who will accurately and efficiently solve the problem. Our plumbing services include:
Residential and light commercial
New construction and remodeling
Water conditioning systems
Water well pumps and service
Septic system installation and repair
Sewer and water services, including excavation and a sewer camera
Licensed backflow inspections
Water Heater installation and repair
Electric projects can be complex, so it's important to select a contractor who has the experience and skill needed to provide effective solutions. At Popejoy Plumbing, Heating, Electric and Geothermal, we understand the value of green technology, so all our services are designed to maximize energy savings and help preserve natural resources.
Residential and light commercial
New construction and rewiring
Automatic standby generators
Flexible service agreements
Ceiling fan and lighting fixture installation
Network and telephone cabling
Recessed and track lighting
This business is well known in the Pontiac area, and now I know why. The tech was a nice guy, friendly and ready knows his job. He did a excellent work. He even informed me of their maintenance plan, which I signed up for that day. Peace of mind, is more than worth the price.
– Carissa
I would highly recommend Popejoy. The gentleman who came over was very friendly and knowledgeable. The owner contacted me 10 minutes after I emailed him about a question and he was very kind and fixed what I emailed about. Very reputable company
– Sheila C.
After the first call is was really frustrated. Almost call another HVAC company. Called back the very next day. 20 minutes later and everything is working. They will make it right! Thank you so much Beau Popejoy! If I have any need in the future I'll be coming back. They stand by their name!
– Jason J.