The weather in Pontiac, Morris, Streator, Braidwood, Coal City, Dwight, Fairbury, El Paso, Gibson City, Lexington, Chenoa, Gilman, IL and the surrounding area is characterized by cold winters and hot, humid summers. Since people spend the majority of the day indoors at home or work, dependable plumbing, electrical and HVAC systems are critical to keeping the indoor environment healthy, comfortable, and energy efficient.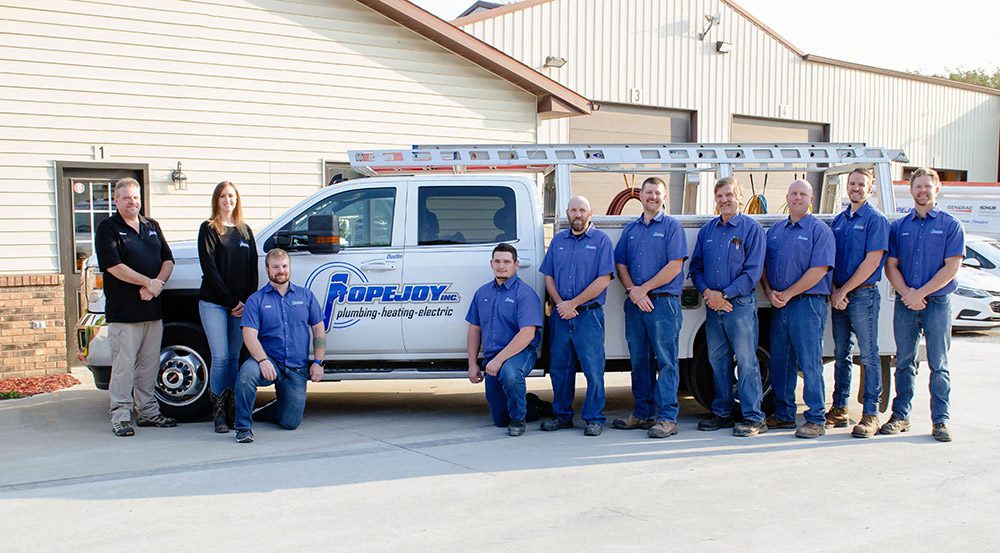 Complete Contractor Services
The knowledgeable and skilled professionals at Popejoy Plumbing, Heating, Electric and Geothermal offer a wide array of subcontracting services for a variety of new construction, remodel and repair projects.
A cooling and heating equipment breakdown is annoying, but it can turn into a major problem if you don't receive prompt service. At Popejoy Plumbing, Heating, Electric and Geothermal, we maintain a full staff of trained technicians, so every AC repair and heating inquiry receives a fast response. We provide 24/7 emergency service and a 100-percent satisfaction guarantee. If your equipment needs to be replaced, we sell and service quality products.
Light Commercial Heating and Cooling Services
A comfortable business environment is essential for customers and employees. We specialize in repairing, maintaining and installing light commercial HVAC equipment, controls, and other peripherals. Our technicians are certified and trained to diagnose and repair complex commercial components, including electronics, circuit boards, make-up air units and economizers.
Geothermal heat pumps are ultra-efficient, since they transfer heat through the earth instead of the air. When you combine a ground source heat pump with radiant heating coils, you'll enjoy the ultimate in warm comfort, efficiency and humidity control.
As your heating and cooling system runs, the ductwork will become loaded with dirt, hair, dander and other irritants. We use a commercial-grade vacuum to suck the debris out of the ductwork and into a sealed container on our truck. Regular duct cleaning will improve your indoor air quality and extend the life of your furnace and air conditioner.
Our plumbing department can address any commercial or residential plumbing issue, regardless of complexity. We service and install fixtures, water heaters, piping systems, appliances, sewer lines and gas lines. Our plumbers can detect minute underground leaks, and we're certified for re-piping repairs and replacement.
Our electric services division is licensed, skilled and certified in every aspect of residential and commercial electrical repair and installation. Trained technicians can locate potential safety problems and provide recommendations to keep your electrical system operating dependably. Our services include circuit panel upgrades, rewiring, and backup generator installation.
Sheet Metal Fabrication
Our on-site sheet metal fabrication shop produces standard and custom ductwork that may be needed for your new construction projects or to retrofit remodeling projects. If you have a need for sheet metal fabrication, we can make that happen to your specifications.
Ventilation Services
Indoor air quality has become a topic of concern as indoor air is more polluted due to volatile organic compounds used in common household products, carpet and furniture. As household envelopes became tighter for energy efficiency, bringing fresh air into homes for proper ventilation has become problematic. We can correct any ventilation issues you may have in your home with our ventilation service strategies and products.
If you have a problem with your HVAC, plumbing or electrical systems, call the pros at Popejoy Plumbing, Heating, Electric and Geothermal today. We're the only source you need to keep your home or office comfortable, safe, healthy and energy efficient. Call us today or schedule an appointment.